Muscle Explosion Natural Bodybuilding System Review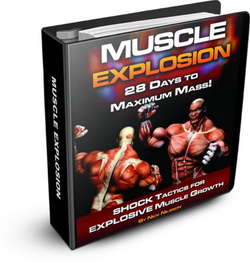 What Is Muscle Explosion?
Muscle Explosion is an extremely aggressive and non-conventional 28-day bodybuilding program from my friend natural bodybuilder and mad scientist Nick Nilsson. It is designed for athletes who want to take their physiques to another level at the fastest rate possible.
Who Is The System For?
This is an excellent program for those of you who could not try out Hypertrophy Max due to its price and who have done programs like Body Re-Engineering and MI-40 and are ready to take their body to yet another level. This program is GUARANTEED to shock your body into growth. If you are someone who think that you have reached your genetic potential, think again. If you follow this program you will see how much untapped potential you still have. [Read more…]